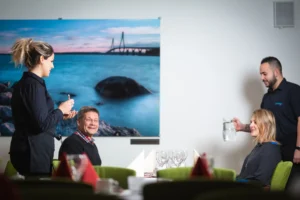 The teaching restaurant Silveria is part of the vocational school Vamia. The restaurant trains future employees in the industry. Environmental awareness and environmental responsibility are parts of our daily operation. The participation in the Green Key environmental program brings this expertise to the customers attention. Read more about Green Key
Vamia's sustainable development priorities, ie energy and continuous improvement in accordance with Lean, are reflected in all degrees in teaching, as well as in the everyday operations of the school, also in the teaching restaurant Silveria. We take the principles of sustainable development into account in our operations and procurement, and we encourage our customers to think and act in an environmentally responsible manner.
We support our student's growth into environmentally responsible citizens who know how to take sustainable development into account in their working life and everyday life. Through this, we can influence student´s awareness and attitudes towards sustainable development. Combining sustainable development and professional skills requires responsibility, knowledge and the right attitude.
Vamia's learning environments – both in the school environment and at the workplace – operate in a sustainable way. Environmentally friendly work and working methods are best learned when they are a natural part of the learning and educational environment.